Mozzarella and Pepperoni Stuffed Chicken.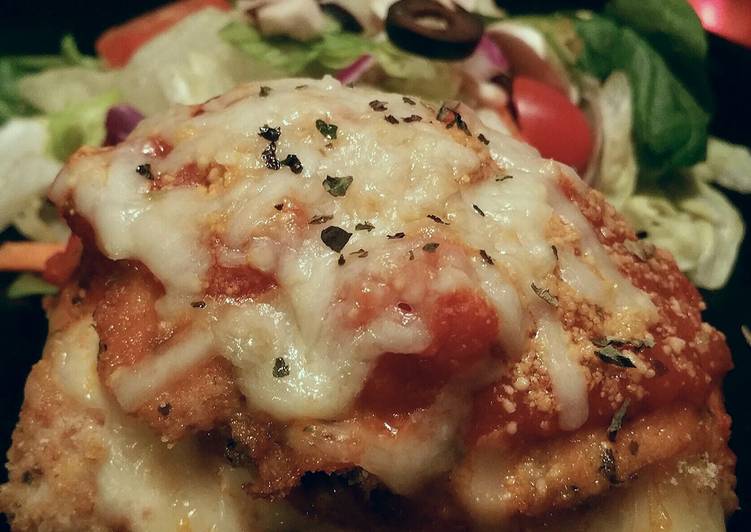 You can have Mozzarella and Pepperoni Stuffed Chicken using 9 ingredients and 9 steps. Here is how you achieve that.
Ingredients of Mozzarella and Pepperoni Stuffed Chicken
Prepare 4 of boneless, skinless chicken breasts.
You need 4 slice of mozzarella cheese.
It's 1/2 cup of shredded mozzarella cheese.
You need 16 slice of pepperoni.
You need 1/2 cup of Italian seasoned bread crumbs.
You need 1 jar of Marinara sauce.
It's 1/2 cup of shredded Parmesan cheese.
Prepare of dried basil.
It's of garlic powder.
Mozzarella and Pepperoni Stuffed Chicken instructions
Preheat oven to 375°F. Spray a 9×13 baking pan with non-stick spray. Set aside..
Rinse chicken with water, and pat dry. Trim off any visible fat. Cut a deep, horizontal pocket in each piece of chicken. (Be careful not to cut all the way through).
Stuff each chicken breast with one slice of Mozzarella cheese and 4 pepperoni slices..
Sprinkle the tops of pepperonis with a dash of dried basil and garlic powder. Close the chicken breasts, and secure with a toothpick..
Spread the bread crumbs in a shallow dish or plate. Dredge each breast into the bread crumbs to coat lightly..
Place all the coated and stuffed chicken breasts into the baking pan..
Bake for 30-35 minutes, or until chicken is thoroughly cooked. Remove pan from oven, and then remove the toothpicks from each chicken breast..
Pour about 1/4 cup of marinara over each chicken breast. Sprinkle with shredded mozzarella and parmesan cheese..
Place back in oven and bake another 5 minutes, or until cheese is melted and bubbly..