Stuffed Chicken Snackers.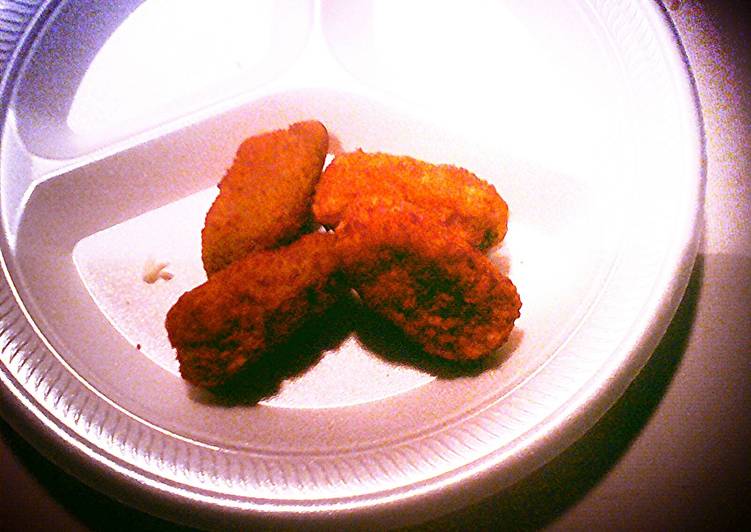 You can have Stuffed Chicken Snackers using 8 ingredients and 13 steps. Here is how you cook it.
Ingredients of Stuffed Chicken Snackers
It's 1 packages of chicken breast or tenders.
Prepare 1 of swiss or cheddar cheese, Frozen.
You need 1 of egg.
You need 1 of splash of milk.
It's 1 of panko bread crumbs.
You need 1 of salt and pepper to taste.
It's 1 of flour for dredging ( season flour with your favorite seasonings ).
You need 1 of oil for frying.
Stuffed Chicken Snackers step by step
Heat oil to 350 in deep fryer or deep pot..
If using chicken breast, slice in strips about the size of a chicken tender..
Cover chicken between 2 pieces of plastic wrap to keep from making a mess..
Pound chicken until flat and thin. It will spread out some..
Cut the block cheese into strips and make sure it does not hang out of ends of chicken. if using it, but shredded will work. I just like the block better. Tuck ends over cheese..
Season chicken with salt and pepper on both sides..
Place a strip of frozen strips of cheese in center of chicken, roll length side to cover cheese and secure ends and sides with tooth picks. I use tooth picks to seal ends also to keep cheese from coming out..
Mix milk and egg to make a egg wash..
Dredge rolls in flour, then dip each roll into egg wash..
Dip rolls back into flour then egg wash again and then roll in panko bread crumbs to coat well on all sides and ends..
Fry in batches until golden brown. Drain on paper towels and sprinkle with salt fresh out of oil if desired. Remove toothpicks after frying..
If you pound your chicken real thin but no holes in it, it will cook all the way through, by freezing cheese it will take longer to melt and it should melt about the time the chicken is cooked..
Serve with dip or side dishes. Can use Italian or plain breadcrumbs. I like panko for the crunch. Can also bake these too..