Pesto Pasta with Grilled Chicken and Broccoli. This creamy pasta combines the fresh bite of broccoli with grilled chicken in a creamy almond milk and pesto sauce, and is equally good served hot or chilled. This post is brought to you by Almond Breeze. This super fast skillet meal that combines a creamy pesto sauce, broccoli, and pasta is perfect for busy weeknights.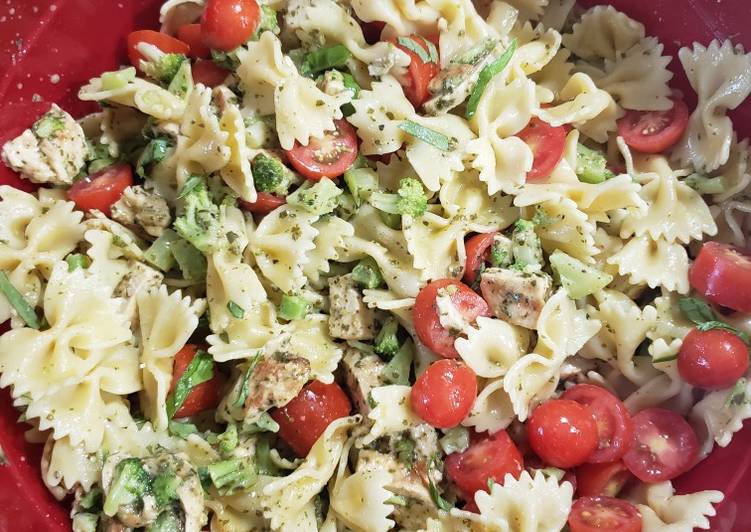 Add the broccoli and cooked pasta to the skillet. Toss until everything is coated in the pesto and the ingredients are all evenly distributed. I used homemade pesto, chicken and broccoli just as you described. You can cook Pesto Pasta with Grilled Chicken and Broccoli using 9 ingredients and 5 steps. Here is how you cook it.
Ingredients of Pesto Pasta with Grilled Chicken and Broccoli
It's 2 of boneless, skinless chicken breasts.
It's 1/2 tsp of salt.
Prepare 1/2 tsp of pepper.
Prepare 16 oz of farfalle (bowtie) pasta.
You need 1 cup of basil pesto.
You need 1 cup of cherry tomatoes halves.
It's 1/4 cup of fresh basil chopped.
You need of Parmesan cheese.
You need 1 cup of steamed broccoli, chipped.
I also added Parmesan and a it of lemon juice at the end for Extra flavor. While pasta cooks, heat oil in a large skillet over medium high heat. Place the pasta and broccoli back into the large pot. Add the chicken mixture, pesto and parmesan cheese.
Pesto Pasta with Grilled Chicken and Broccoli instructions
Season the chicken breasts with salt and pepper. Grill the chicken until completely cooked. Transfer chicken to a cutting board and slice into strips..
Boil the pasta until al dente according to the package instructions. Rinse and drain pasta and set aside. (I usually pour a little milk over the drained pasta to prevent the pasta from sticking together).
Steam chopped broccoli and add it to the chicken and pesto mix.
Using a large bowl, mix together the pesto, pasta and chicken. Stir until well combined and place in the refrigerator until chilled..
Stir in the cherry tomatoes and fresh basil immediately before serving. Finish with freshly grated Parmesan cheese..
Here's to a recipe that will brighten up your day. it's #FoodHacks teaching you how to make a delightful Creamy Pesto Pasta with Chicken and Broccoli. The pesto in this recipe is made with broccoli, pistachio nuts and ricotta cheese. Chicken Pesto Pasta is chicken and penne in a basil pesto sauce. This is one of those recipes that's great for a busy weeknight. You only need a handful of ingredients to make it.